Mayroad Continues to Deliver Award-Winning Customer Service Ranking #1 for the Fourth Consecutive Year in the Air Force Family Housing Resident Satisfaction Survey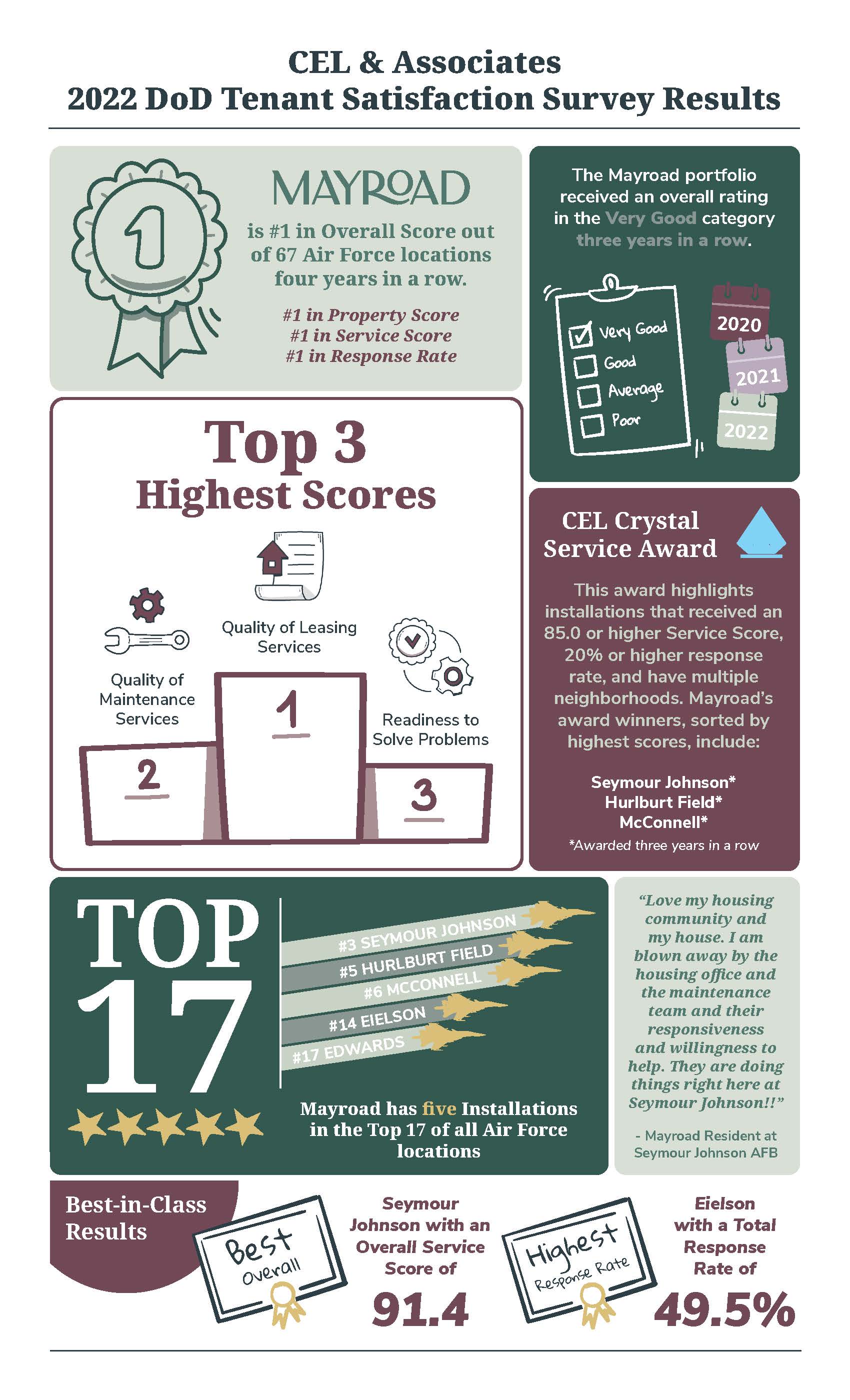 Mayroad Continues to Deliver Award-Winning Customer Service Ranking #1 for the Fourth Consecutive Year in the Air Force Family Housing Resident Satisfaction Survey
RALEIGH, N.C. (May 2, 2023) – Mayroad, which provides on-base housing for more than 14,000 residents, ranked number one in overall score out of 67 Air Force locations for the fourth year in a row as part of the 2022 DoD Tenant Satisfaction Survey. Mayroad also ranked number one in property score, service score, and response rate.
"We are incredibly grateful to our residents who took the time to provide feedback that is critical to how we make decisions, operate our day-to-business, and provide recognition to our hardworking teams," said Heath Burleson, President and Chief Executive Officer of Mayroad. "Receiving the #1 ranking again this year is indeed humbling and motivates us to continue our mission of delivering the highest level of customer service to those whose lives we impact every day."
Five Mayroad installations, Seymour Johnson AFB (North Carolina), Hurlburt Field (Florida), McConnell AFB (Kansas), Eielson AFB (Alaska), and Edwards AFB (California) ranked in the top 17 of all Air Force locations. Seymour Johnson AFB was recognized as the best installation in the Mayroad portfolio with a service score of 91.4, and Eielson AFB reported the highest response rate with a score of 49.5%.
On an annual basis, CEL & Associates, Inc., a third-party firm, administers the DoD Tenant Satisfaction Survey, on behalf of the Air Force, and uses standardized questions across all military departments and housing types for residents to provide feedback on housing operations, services, and facilities. Based on resident feedback, the Crystal Service Award reflects the highest level and quality of service across thousands of properties. It requires a minimum satisfaction score of 85% with a response rate of 20% or higher. Three Mayroad bases received the distinguished honor for a third consecutive year: Hurlburt Field, Seymour Johnson Air Force Base, and McConnell Air Force Base.
Like last year, residents awarded their highest scores for Mayroad's readiness to solve problems, the quality of maintenance services, and the quality of leasing options. "The servant-heart mentality is part of our Mayroad DNA," explained Sharon Shores, Senior Vice President of Asset Management and Property Operations of Mayroad. "We are honored to serve families of the United States Air Force and show up every day with a focus to deliver on every task, every challenge, and every interaction."
About Mayroad and the Military Housing Privatization Initiative Mayroad is an asset management company launched by the leading investment management firm Harrison Street. Mayroad is the owner and operator of the Air Force Continental Group as part of the U.S. Department of Defense Military Housing Privatization Initiative (MHPI). Headquartered in Raleigh, N.C., the Air Force partner's portfolio includes more than 4,000 homes across six Air Force installations. It is comprised of leaders with more than 20 years of Public-Private Partnership experience. Mayroad strives to create and foster long-term sustainable partnerships while ensuring the highest level of customer service and social responsibility. For more information, please visit www.themayroad.com.
Media Contact: Kelly Douglas, VP of Communications, Mayroad Kelly.Douglas@themayroad.com (323) 621-6247